There is rumors that circulate over email since 2001 regarding this 'Corpus Christy'. This may help people so they are not simply was tricked. By the way if this is true then you may also sign your petition here.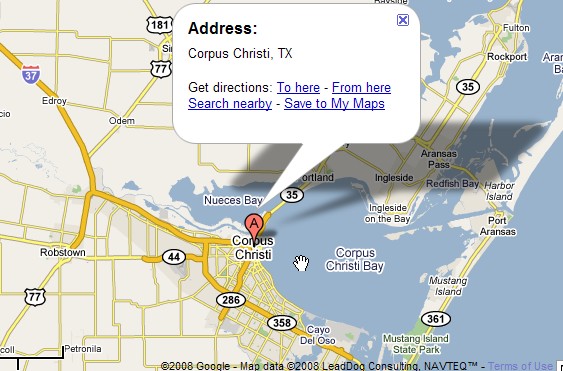 Description of the map
Corpus Christi is a coastal city in the South Texas region of the U.S. state of Texas. The county seat of Nueces County,it also extends into Aransas, Kleberg, and San Patricio counties.The population was 277,454 at the 2000 census; in 2006 the US Census Bureau estimated the city's population at 285,175,making it the eighth-largest city in the state. It is the principal city of the three-county Corpus Christi Metropolitan Statistical Area as well as the larger Corpus Christi-Kingsville Combined Statistical Area. The translation from Latin of the city's name is Body of Christ, given to the settlement by the Spanish, in honor of the Blessed Sacrament (Eucharist). The city has been nicknamed The Sparkling City by the Sea, particularly in literature promoting tourism.
-wikipedia
A Movie Coming Out in 2001 Features a Gay Jesus-Fiction!Summary of Rumor:
This email encourages people to add their names to the bottom of a list and circulate it sort of like a petition around the Internet. It's designed to protest a movie that is described as coming out in 2001 which says that Jesus and his disciples were gay. It says the movie has been successfully banned in some European countries.
bullet Update 5/11/01 There is a new version of this eRumor circulating that says the name of the movie is going to be Corpus Christi, the same name as a play about a gay Jesus.
The Truth:
There is no movie coming out in 2001 that we can find featuring a gay Jesus or gay disciples. This appears to be a new, Internet version of a rumor we investigated more than 15 years ago when an article in a magazine in the state of Illinois in the United States claimed such a film was being proposed. The movie project was authentic, but never got off the ground. A rumor about the movie was circulated far and wide, however, and multitudes of letters were received by an Illinois state agency which, for some reason, became the focus of the protest. The movie never had anything to do with Illinois but had merely been mentioned in a publication from Illinois. The rumor as it is currently appearing on the Net is very weak. It doesn't give any specific information as to who is producing the movie or where anyone could write to effectively protest it. Additionally, the encouragement to add a name to the list and forward the email is useless. Who is going to send the final version and to whom?
There is a stage play titled "Corpus Christi" that has created controversy wherever it has been presented. It features a lead character with the name Joshua, which is a variation of the name Jesus. In the play, Joshua is a young gay man who fled form his home town of Corpus Christi, Texas, because of persecution over being homosexual. He returns, assembles a group of disciples, with whom he has sex, faces violent opposition, is betrayed by his friend Judas, and is crucified.
Updated 5/11/01
A real example of the story as it has been circulated:
MOVIE COMING OUT SAYING JESUS WAS GAY!

I canít believe it. There is a movie that is coming out in 2001 saying Jesus and his disciples were gay!

There is already a play that went on for a while, but never stopped! Maybe we can all do something! Please send this to ALL of your friends to sign to stop the movie from coming out. Already
certain areas in Europe have started to ban it from coming to their
country and we can stop it too! We just need a lot of signatures and you can help!

Please do not delete this! Deleting it will show your lack of faith and a lack of respect for our Lord and Savior Jesus Christ who died for us!

Please help!

SIGN AND SEND TO EVERYONE YOU KNOW! PLEASE. IF WE WORK TOGETHER WE CAN BAN THIS! PLEASE!!!!!!!!!!!!!!!!!!!!!!!!!!!!!!!!!!!!!!

TYPE OUR NAME AT THE END OF THE OTHER NAMES LIST.
THEN SEND THIS LETTER ON TO ALL OF YOUR FRIENDS AND CHURCH MEMBERS AND PASTORS, NEWSPAPERS, TV STATIONS ANDY INTERNET SITE WITH AN EMAIL ADDRESS SUCH AS CNN, NBC, CBS, ETC.

JUST SENDING TO PEOPLE AND FRIENDS YOU KNOW WILL NOT HELP.

SEND TO THE MEDIA ... THE PLACE WHERE MOST OF THWE WORLDS PROBLEMS START!

LYNNE

LET IT KNOWN THAT WE THE FOLLOWING PEOPLE ARE ADAMANTLY AGAINST ANY MOVIE OR MEDIA ATTEMPT TO PORTRAY OUR SAVIOR, JESUS CHRIST, OR ANY OF HIS
DECIPLES AS GAY. WE HEREBY DEMAND THAT THIS MOVIE BE BANNED FROM OUR STATE AND FROM THIS COUNTRY AND HEREBY STATE THAT WE WILL BOYCOTT ANY THEATRES OR
PRODUCTION COMPANIES WHO WOULD DARE SHOW SUCH A MOVIE AS VILE AND IRREVERANT AS THIS. WE WILL ALSO STATE HEREIN THAT WE WILL NEVER AGAIN VOTE FOR ANY POLITICIAN WHO WOULD SUPPORT SUCH A BLASPHEMOUS THING. BE YE WARNED OF OUR POSITION ON THIS!!!!!!!!!!!!!!!!!!!!!!!!!!!!!!!!!!!!!!!!!!!!!

Corpus Christi DVD (1997)
http://www.cduniverse.com/productinfo.asp?pid=7226858
Synopsis from the net.
CORPUS CHRISTI explores the historical figure of Jesus through the story of the Passion. Dedicated documentary filmmakers Grard Mordillat and Jrme Prieur called on the world's most renowned biblical scholars to lead this inquiry, which began with an examination of the Gospel According to St. John and proceeded through the 27 books of the New Testament. Word for word, phrase by phrase, verse by verse, these experts uncovered the enigma known as Jesus Christ. Hailed by critics and viewers as a series on French television, it offers the same rigorous research into the world's most treasured texts that was displayed in the filmmakers' earlier ORIGIN OF CHRISTIANITY.
This compelling documentary from the team behind the critically acclaimed ORIGIN OF CHRISTIANITY examines the historical Jesus, comparing and contrasting him to the figure that has been molded by the Bible and Church over the centuries, and delving into the facts of the Crucifixion, with expert interviews and cutting-edge archeological evidence.
Some long discussion
you may want to read what people response here
http://ikhnaton2.com/whisper/movies/corpus_christi
God Know Everything, don't get your self confuse or cross-road just stay in your christianity faith.

alice

Admin







Number of posts

: 62


Active Level

:





---
Permissions in this forum:
You
cannot
reply to topics in this forum