Nampaknya sejak akhir-akhir abad ini, gerhana matahari selalu berlaku. Apakah penyebabnya atau ia normal saja.
Nantikan pada 26 january 2009
Bagaimana ia berlaku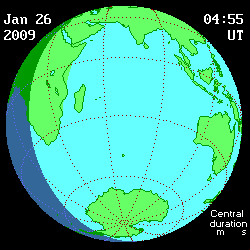 Kejadian yang boleh dilihat di kota kinabalu sabah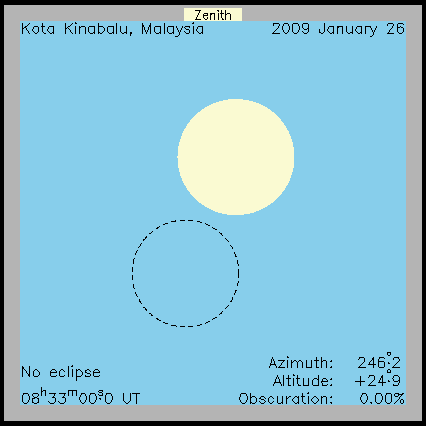 Berikut adalah perinciannya.
Latitude: 5° 58' 13" N
Longitude: 116° 6' 40" E
Height above sea level: 0 metres
Time zone: 8h ahead of UT
The eclipse is partial from this location. The sun sets before the
end of the eclipse.
Timing Information
Beginning of partial phase
Time: 2009 Jan 26 16:43:48
Maximum eclipse
Time: 2009 Jan 26 17:54:39
Eclipse magnitude: 0.828
End of partial phase
Time: 2009 Jan 26 18:57:11

sapat

Wusak








Number of posts

: 41


Active Level

:





uii, kena tunggu dan tengo ni

modtolop

Baru Naik








Number of posts

: 11


Active Level

:





---
Permissions in this forum:
You
cannot
reply to topics in this forum